Reading Time:
4
minutes
It is often said that 'children are the future.' But at the age of only 11, one Peruvian kid strongly disagrees. José Adolfo Quisocala Condori, from Arequipa, Peru, believes children are the present. And that they're perfectly capable of taking that present into their own hands. Many children dream of becoming entrepreneurs when they grow up, but very few start early.
When he was just 7 years old, Quioscala started the Banco del Estudiante Bartselana, a cooperative bank that both helps students not only save money, but recycle, too. He noticed his classmates were given pocket money and spent it all on candy and toys, without saving a dime. After having being taught the value of savings by his parents, he came up with a new financial system that would allow his classmates to save money, but here's the twist: doing so helps benefit the planet. Today, his bank serves over 2,000 clients and offers various financial services.
Who is Jose Adolfo Quisocala Condori?
Jose Adolfo Quisocala Condori (14), was probably the youngest banker who founded his own bank called Banco Del Estudiante (Bartselana Student Bank) when he was at the age of 7. When many of his peers dreamed of becoming professional footballers, firefighters or cumbía music stars, José Adolfo had his sights set on the world of finance from an early age.
He was motivated by seeing his peers skipping lunch because they had spent the little money they had on sweets or football cards. What drove him even more was the poverty he saw among children who were not attending his primary school.
"Seeing children living in poverty, seeing many children working in the streets, at the traffic lights selling sweets, begging … made me think, why can't these children go to a normal school,"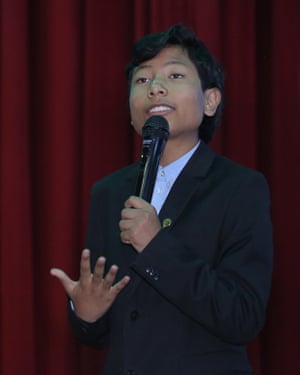 "One of the reasons why those kids were working was because there was no money at home. Why can't I teach them to save?"
Turning Impossible Into Possibility
Photo: Bartselana Student Bank/Facebook
"At the beginning, my teachers thought I was crazy or that a child could not undertake this type of project," Jose recalls. "They did not understand that we are not the future of the country but its present. Luckily, I had the support of the school principal and an assistant in my classroom. I had to endure the jokes and bullying of my classmates for the work I was doing."
Jose Adolfo Quisocala Condori founded the Bartselana Student Bank in his home city of Arequipa, in 2012. The idea behind this ingenious financial institution was fairly simple. Children could become clients of the bank by turning in at least 5 kilograms of recyclable waste (paper or plastic) and were required to deposit at least one other kilogram of waste every month, in order to maintain their membership status. They would then set a savings goal, and could only withdraw money from their accounts when they reached their savings goal.
The 7-year-old reached an arrangement with local recycling companies that offered clients of the Bartselana Student Bank a higher price per kilogram of recyclable waste, with all proceeds deposited straight into their accounts. To make sure that the children were the only ones who benefited from their work, he made it so that no one except the clients themselves, not even their parents, could make withdrawals.
Entrepreneur kid Jose Adolfo
Photo: Bartselana Student Bank/Facebook
Between 2012 and 2013, the Bartselana Student Bank collected 1 ton of recyclable material and generated savings for 200 children at Jose's school. The initial success of his project drew a lot of attention, and at one point he even partnered with a large bank in Peru, to make this sort of services accessible to even more children. However, that deal didn't work out as Jose expected so he decided to go forward independently.
The Bartselana Student Bank has been growing every year since its inception, and today it has over 2,000 clients aged 10 to 18. Its founder recently told PPE that he has been approached by Peru's Banco de la Nación for another join venture, and the that the idea of negotiating with corporate executives doesn't scare him at all, on the contrary.
"I'm not intimidated by meeting with bank executives to talk about business. The treatment is always cordial and, to be honest, I feel more comfortable with adult people because they understand the projects I am proposing to them," the 14-year-old entrepreneur said. José Adolfo struck deals with local recycling companies to pay his bank's clients a slightly higher price than normal; for example 0.80 Peruvian Soles (0.19 GBP) a kilogram of plastic or white paper.
Meeting World Leader Is A Dream Come True
This energetic & loving child of 14-years-of age has already received several National and International awards, featured in foreign documentaries & was invited to various events all over the world even though he does not know English fluently! In November 2018, This Student Entrepreneur & Eco Activist won the prestigious Children's Climate Prize, which is given to a child or youth who has accomplished an extraordinary feat for the climate or environment. He was awarded National Prize for Volunteers by the Peruvian Parliament and in 2015, Queen Elizabeth II and the United Nations also honored the youngster.